The Sun is Also a Star
by
Nicola Yoon
My rating:
2 of 5 stars
[actual rating: 2.5]
Gif summary: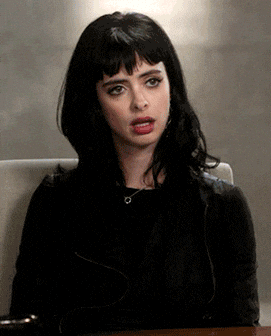 Maybe because I'm not a hopeless romantic, this book just wasn't for me. The only thing that made this book readable was that I could relate to Natasha's mindset. She is a skeptical cynic about the existence of love and God, and I feel like I've been sticking to that type of looking at the world as the book went on.
I hate instalove. I haaaate instalove. Did I mention how much I hate instalove? First of all, the idea that you could have "true love" and "fate/destiny" in 24 hours is completely unrealistic. Sure, it may be a cute idea, but I honestly thought that there was way too many coincidences of timing that made them be together again and again. The fact that this progressed so rapidly from a stalker to a meeting to a crush to supposed "true love" really turned me off of the message that this book was supposed to portray. You can't completely be enjoying a book and just rolling your eyes at the absurdity of the events that were happening.
My favorite thing about this was the peek of perspective that we got into relative strangers. We got to look into the life of a waitress, a flight attendant, a secretary, etc. Just everyday people that are doing their job sometimes behind the scenes, and we sometimes forget that they have their own human problems and struggles, for whatever reason.
The portrayal of immigration hit close to home, and at the beginning I was so excited to be reading a book with a character that's here illegally and being deported back to her home country. I feel in a similar life phase now, and I won't give more details than that I'm moving internationally, so I felt that I could finally find the character that I can sympathize with. Unfortunately, that crucial aspect got pushed past when the romance took the driver's seat in this plot.
If people who were actually born here had to prove they were worthy enough to live in America, this would be a much less populated country.
One of the reasons why I chose to pick this book up was because of the #ownvoices diversity included. And yeah, the representation seemed very authentic and real with the character's and the expectations of their parents. The strongest backstory that we could have gotten was from both of the fathers who were both immigrants here, and the snippets that we get from their past life do seem really realistic. Yoon did an excellent job trying to shine a light on the immigrant experience, when it came up.
**Thanks to BloggingforBooks for sending me a copy in exchange for my honest review.**
View all my reviews